EP review by jay@thesoundofconfusion.co.uk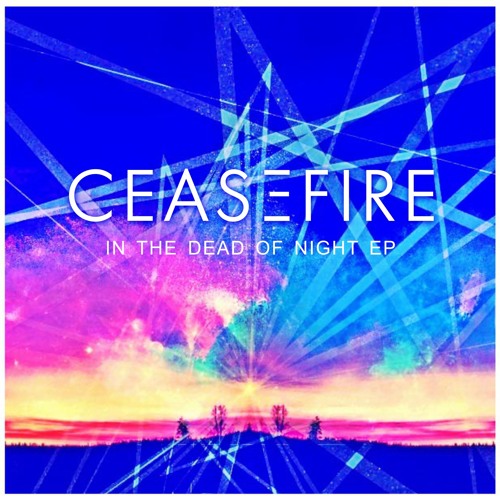 We as writers are guilty of dissecting, labeling music, oft focusing on strands of a song that don't quite fit for whatever reason, without taking the song as a whole. Ignoring any guilty rush that it may give. So you end up with "critics faves" and "fans band". Really it should just be about the impact the song has.
Ceasefire
fall straight into this scenario with 'I Want To Know', lead track off their new EP 'In the Dead of Night'. 'I Want To Know' starts with some synths not heard since 'The Final Countdown' by Europe, and my "critic" heckles were instantly raised. Then I remembered how the song was no.1 and huge. But 'I Want To Know' is no flashback to poodle perms and spandex, but a rousing rock synth punch that will be a stormer live. And it houses a huge hook to grab you in.
Follower 'Wake Up' is better again. It's ready-made for huge spaces, with an epic feel, similar to 30 Seconds to Mars, but without the pretentiousness. It has a sense of the euphoric that is built upon shimmering piano and controlled dynamics that are masterfully unfurled as the song grows in stature. The song ends almost too quickly, leaving you wanting for more. Then Ceasefire take a slightly unexpected turn with the pure rock pop love song of 'Always'. This is an unashamed song of love and it's magic. No it's not Aphex Twin, but it could easily set alight crowds around the world. Being an old cynic, the line,
"your love is like a shooting star"
sounds a little cliché, but to those enjoying the first hit of love and life will find it their soundtrack.
The EP's title-track, starts off the weakest so far, but has another sky high, immense hook built on urgent synths and
"woahs"
that keep your attention. Throughout the EP, lead singer Ray Alexander's vocals are powerful, warm and expansive. No more so than here. A breakdown in the song last quarter lifts it again, and it ends up being another strong track. With a restrained sense of grandeur, 'My Way' has a measured and precise dynamic, that aids the song to perhaps have the best sense of craftsmanship and longevity. You feel it will grow on repeated listens; possibly the EP's highlight. Final song 'We're Not Breaking' does fall too far into the cliché. Musically it is rich and vibrant, but lines like
"we're like a solider in the hot, hot, desert heat"
and
"like a bird that wants to fly away"
are just too worn and detract from what could be a truly heartfelt song. OK, maybe it is me being the old cynic, for there is a bewitching element to the song and it expands into near U2 anthemic realms in a wonderful way. This is a strong, and at times uplifting, masterful collection of songs that point to the chance of an exciting future for Ceasefire.
Ceasefire's
website
Stream the EP in full
Buy the EP
For more news, reviews and downloads follow The Sound Of Confusion on
Facebook
or
Twitter
contact@thesoundofconfusion.com