Album review by jon@thesoundofconfusion.co.uk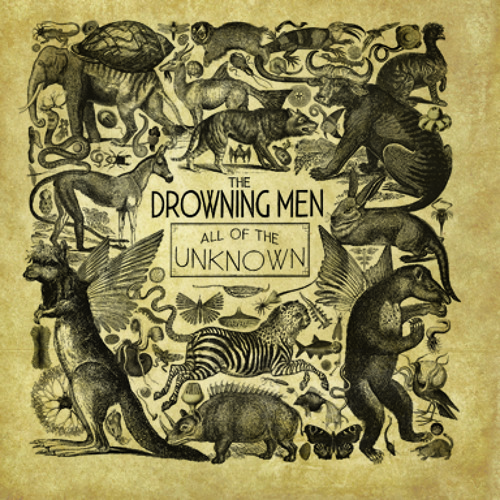 Everyone has heard of, and a lot of people have listened to, Mumford & Sons. They're one of the biggest UK bands of the last few years and continue to make a significant impression across the pond, which is where
The Drowning Men
hail from - San Diego, to be precise. Opening tracks 'Lost In A Lullaby' and 'The Waltz', particularly the first of these, do sound an awful lot like Mumfords. Then reflect upon the fact that The Drowning Men (they do look as if they've spent the last few weeks adrift on a raft) formed in 2006, that they're big mates with those other folk punk legends Flogging Molly, and wonder - unless you're a hardcore folk punkster and know all this stuff forwards and backwards - exactly where Mumfords get it from in the first place.
The Drowning Men are taking things a step or two away from the grimy cliches though, and 'All Of The Unknown' has a thoughtfully composed structure holding it together. Slowing the pace perceptibly with the fairground themed 'Bored In A Belly', the Drowning Men give their keyboards a bit of a spin on 'Smile' and start to sound less like The Men They Couldn't Hang and a bit more like Foster The People, their innate Californianness taking over from their wanting to sound a bit like The Pogues in their mid '80s heyday.
I like my folk music to sound a bit, y'know, folksy, and admirable as the Drowning Men's efforts are, I've the same problem with them as I do with Mumfords. The drumming. Nat Bardeen is a more than competent songwriter, all the rest of the band including drummer Rory Dolan are skilled musicians, but there's some sort of rule about bands such as The Drowning Men which demands that most of their songs, including their more experimental excursions into synth-pop territories, are underscored with relentless percussive batterings which eventually knock all their tunes sideways, notably here on 'Life In The Willow Tree'. 'A Long Long Walk' does display a lighter touch behind the skins somewhat, but it's nearly too late for this 11-tracker to drag itself out of the deep end of the pool although next track 'Fix Me Love' also shows that the Drowning Men know exactly how to vary the tempo, which I think I'd like them to do a bit more often
'All Of The Unknown' has a lot going for it, but the songs and the playing don't always sit well together and unless you're a committed Mumfords type fan you probably won't really get the idea about The Drowning Men although you might, as I have, decide that you'd rather spend forty minutes listening to 'All Of The Unknown' than to Mumford's recent 'Babel' album.
The Drowning Men's
website
Pre-order the album
Catch them live:
THU 15 AUG FM4 Frequency Festival, St Pölten, Austria
FRI 16 AUG Strom Linienclub, Munich, Germany
TUE 20 AUG Hafenkneipe, Zürich, Switzerland
WED 21 AUG Stiftskirche Stuttgart, Germany
THU 22 AUG Essigfabrik, Cologne, Germany
FRI 23 AUG Herford, Germany
SAT 24 AUG Feest in the Park, Oudenaarde, Belgium
For more news, reviews and downloads follow The Sound Of Confusion on
Facebook
or
Twitter
contact@thesoundofconfusion.com