Album review by kev@thesoundofconfusion.co.uk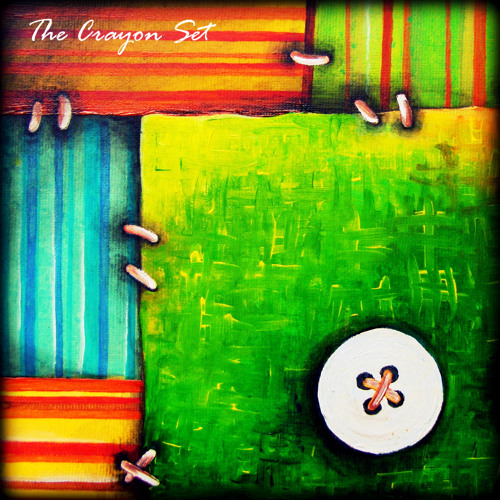 Making this kind of string-laden, British-sounding indiepop with the odd brass section means that instantly
The Crayon Set
will have two albatrosses around their neck, and the names of these albatrosses are Belle & Sebastian and Camera Obscura, so we'll mention them now and get it over and done with. We need to hop across the Irish sea to Dublin to find the city this band currently call home though, and regardless of comparisons, any band dealing in a similar style of music would be proud to have made an album this strong, and that includes any Scottish bands. Robert Barker founded The Crayon Set back in 2008 but since then they've grown into an eight-strong "mini orchestra", and they sound just about perfect for what they're doing.
They use this range of instruments well, along with both male and female vocal leads. Take opening track 'I Wanted You'. Gentle guitar and piano begin the song until a pensive vocal comes in, backed by forlorn sounding brass as she sings
"I think they system's failed"
, this being a song of lost love. Then come some beautiful melodies and strings; the whole song does feel like a gorgeous pop tune made by a mini orchestra. It's not a case of strapping yourself in for the ride; no seat belts are needed, just make yourself comfortable, sit back and enjoy these songs, and if you like indiepop then you
will
enjoy them. 'K+J=O' is enough to know that you weren't being led into a false sense of security by a stunning first track, only to be let down by the rest. The two voices work well in tandem and the arrangements are inch perfect, and yes, the lyrics to this one do recall those of Stuart Murdoch.
The sound and style don't vary a huge amount but songs like 'Breakdown' lay on the guitars a bit more heavily and offer something approaching grittiness. 'Smalltown Kids' scores very highly in the chorus department. Other big hitters here are 'No. 1 Fan' 'Wonderland' and 'Driftine Closer To The Sun' which rush though like little bundles of perfect melody Slower numbers 'No. 2 Fan', 'Sickdays' and 'The Art Of Letting Go' are equally as thoughtful and carried out impeccably, the former even having a 'Pet Sounds' feel to it. It's a reflective song that ends the album too; 'Eurodisco' is anything but. As an album is near impossible to find fault with 'The Crayon Set', unless this type of music is purely and simply a sound which doesn't resonate with you (in much the same way that The Red Hot Chili Peppers don't resonate with me). You could say they sound a bit like certain other bands, but in truth this album is a match for those bands, so that point is easily brushed aside. We're hoping The Crayon Set will be around for many years.
The Crayon Set's
website
Stream the album in full
Buy the album
Catch them live:
Bray Summerfest Sat July 20 at 8:00pm, Bray, Ireland
Indiependence Music & Arts Festival Fri Aug 2 at 7:00pm, Mitchelstown, Ireland
The Crayon Set & Special Guests @ Tumbleweed Love Session, Sat Aug 10, The Cobblestone, Dublin, Ireland
The Grand Folk Club, Tues Dec 3 at 8:30pm, The Grand Social,Dublin, Ireland
For more news, reviews and downloads follow The Sound Of Confusion on
Facebook
or
Twitter
contact@thesoundofconfusion.com