The King Khan Experience - I Got Love
Canadian garage titan King Khan
is one of the most prolific men in rock. Famed for his work in King Khan & The Shrines and The King Khan & BBQ Show, he's now back with another EP, this time as
The King Khan Experience
. 'I Got Love' is exactly what you'd expect from a man of this calibre, an urgent riff, organ swirls and raw vocals. Top stuff.
King Khan's
website
The Kills - Baby Says
It's difficult to believe that Anglo-American duo
The Kills
have been making records for over a decade now. The past few years have been noted for their rock star collaborations and celebrity girlfriends, but it's better to concentrate on the tunes. What a beauty they've come up with here - 'Baby Says' is all their finest moments distilled, probably the best track they've made.
The Kills'
website
Buy the single.
Kathryn Calder - Who Are You?
Kathryn Calder
is a member of Canadian indie collective The New Pornographers and this week sees the release of her second solo album. 'Bight And Vivid' features several guest appearances and boasts a slightly more experimental, synth-based sound than her debut. 'Who Are You?' is driven by electronic beats and sparse guitars, and in places has an almost choral vocal. Hit the arrow to download.
Kathryn Calder - Who Are You?
by
killbeat music
Kathryn Calder's
website
Stream the album in full
Buy the album.
Surfer Blood - Miranda
The debut album by Florida quartet
Surfer Blood
was one of the word of mouth success stories of last year, proving that some Sound Of Confusion predictions do come true. This success has seen them sign to Warner Bros. and they're now back with a new EP which, thankfully, is more of the same. Grab a free download of 'Miranda' below.
Surfer Blood - Miranda
by
SPEAKIMGE8
Surfer Blood's
website
Buy the album.
OBLIGATORY RECORD OF THE WEEK
Elephant Stone - Love The Sinner, Hate The Sin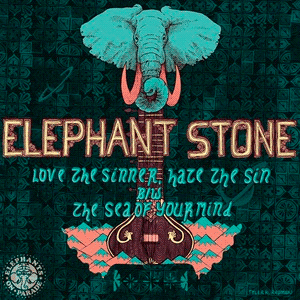 Rishi Dhir was previously in psychedelic revivalists High Dials but formed a new outfit,
Elephant Stone
in 2008. So far they've released two albums and now unleash new single 'Love The Sinner, Hate The Sin', a first class lesson in psych-pop songwriting. This track is incredibly catchy and shows of a superb sense of melody, it's completely impossible to dislike. Download it free below and tuck in.
Elephant Stone's
website
For more news, reviews and downloads follow The Sound Of Confusion on
Facebook
The Sound Of Confusion on
Myspace
soundofconfusion@hotmail.co.uk