EP review by soul1@thesoundofconfusion.com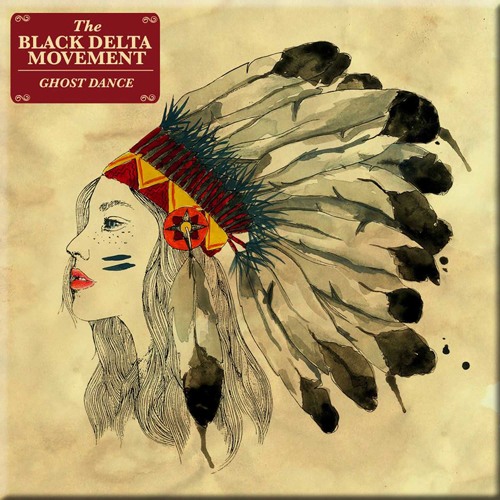 Hailing from Hull but signed to Irish label Ruby Music,
The Black Delta Movement
are aiming for a big and rich sound. They pull in strands of garage, psych and British indie-rock music and concoct a heady mixture of noise that must sound huge in the live arena, and may be one of the reasons that many bigger-name bands have chosen them as support in the past. New EP 'Ghost Dance' is the exact sort of record that would have put them on the map a few years ago when guitar music was still selling in decent amounts, and it would be them choosing the support acts for their own headline shows in 2014, but songs like this often slip under the radar now. As we've said about several guitar bands: it just takes that one crossover hit to reel in the public and mark your arrival, and this is often down to nothing more than chance.
There's not much in the way of pop to be found on this new EP, so The Black Delta Movement are likely to remain underground for now, but will surely build a fanbase. You can learn an awful lot about their sound by simply listening to the short opening track 'Is That Blood On Your Hands'. It borrows from blues, it borrows from psych, and it even has a touch of Oasis' lad-rock in there too, although this doesn't detract from the song and put them in the same bracket as Viva Brother or Twisted Wheel and so on. There's more attention to detail, and the squealing guitars at the end are a nice touch. The classic riffing 'Blister' follows and should be what Beady Eye are doing, instead of the substandard rock they churn out. The gargantuan 'Emissary' is not only something of a centrepiece, it's also the biggest and best tune here; a building and unstoppable force of nature that brings them even closer to pure, deep psych. If any song is to escape the confines of this EP and take on the wider world then this is it. Again the squalling guitar towards the end is exemplary. It
should
be 'Macbeth' that radio and TV are picking up on, its shorter, higher-tempo scuzzy attack seems made to be a single, and a few years ago it would be all over the airwaves. Times have changed though, but just maybe The Black Delta Movement can help them change again.
The Black Delta Movement's
website
Buy the EP
For more news, reviews and downloads follow The Sound Of Confusion on
Facebook
or
Twitter
contact@thesoundofconfusion.com