Article by soul1@thesoundofconfusion.com
HAPPY NEW YEAR!
Well, here we are again: it's the 1st of January and it's time for us to take a look at some of the bands we're looking forward to getting to know in 2014.
Last year's list
included some bands who've already stepped up to the plate such as The Strypes, Temples and Peace, as well as others who are still beavering away on their debut albums whilst giving us some great singles to get us through the brilliant musical year that was 2013, including Big Wave, HUSH! and Knocking Ghost. Along with the others we mentioned back then, they've helped ensure music has been in good hands. So here are ten new acts that are already getting our juices flowing for the coming twelve months. As usual, we're not attempting to predict sales, this is solely about making decent tunes, and once again, the only rule for qualification is that the artists included are yet to release a debut album in the UK. They're listed in alphabetical order and we hope you find some new favourites among this lot too!
Coastal Cities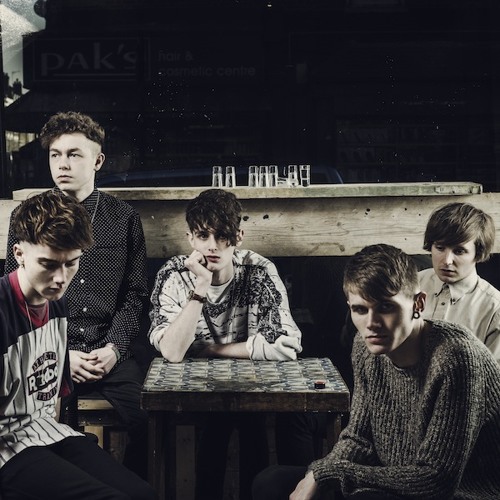 Having first stumbled upon this High Wycombe quintet
at the end of 2012
, they were close to making this list last year, but we needed to hear more. They were happy to oblige. Having formed way back in 2009,
Coastal Cities
really came of age with a string of confident, breezy and melodic guitar-pop tunes in the past few months, taking indie-type music and allowing it to rise above the lo-fi rut it's been stuck in whilst retaining the freshness that keeps the songs full of vigour.
Download 'If I Knew' for free by heading
here
Coastal Cities'
website
Buy their music
Catch them live:
Jan 30, The Horn, St Albans, United Kingdom
Colour Of Bone
Another artist we
first heard about in 2012
was
Colour Of Bone
and his releases in the past few months have not only be exceptionally (and increasingly) good, they've also shown plenty of variety and innovation without ever becoming disjointed. If this fantastic run of singles can be transformed into an album of comparable quality then this fusion of electronic, acoustic, urban, indie, dreampop, rock and other assorted genres could result in one of our most unique new talents.
Colour Of Bone's
website
Cheatahs
What they lack in spelling ability they more than make up for in the music department. Yeah, yeah, we know
Cheatahs
is (probably) spelt that way on purpose, but the name is the thing we're least concerned about with this London group. Recent single
'Cut The Grass'/'Kenworth'
was what caught our ear, but upon further investigation this quartet have a wealth of other dreamy, shoegazey, fuzz-rock type tracks that will light up the coming months as they get prepared to launch their debut album.
Cheatahs'
website
Buy their music
Catch them live:
WED 12 FEB Birthdays, London, UK
SAT 15 FEB The Harley Hotel & Bar, Sheffield, UK
SUN 16 FEB Prince Albert, Brighton, UK
MON 17 FEB Brudenell Social Club, Leeds, UK
TUE 18 FEB Broadcast, Glasgow, UK
WED 19 FEB East Village Arts Club, Liverpool, UK
SAT 22 FEB Bunk Bar, Portland, OR, US
SUN 23 FEB The Tractor Tavern, Seattle, WA, US
THU 27 FEB The Echo, Los Angeles, CA, US
TUE 04 MAR Rough Trade NYC, Brooklyn, NY, US
WED 05 MAR Boot & Saddle, Philadelphia, PA, US
THU 06 MAR U Street Music Hall, Washington, DC, US
FRI 20 JUN Best Kept Secret Festival 2014
Dios Mio
As you'll be well aware, we're partial to the odd bit of indiepop, and as always the coming months will have plenty to offer. But what can we look forward to that takes the genre away from its clichéd sounds? Look no further than London's
Dios Mio
, a band who prefer the term "grunge-pop" and add some strong vocals to their soaring melodies and ringing guitars. Check out singles
'Tough Crowd'
and 'Proto' below for music that keeps words like "twee" firmly out of the picture.
Dios Mio's
website
Buy their music
Catch them live:
SAT 25 JAN Queen of Hoxton, London, UK
SUN 26 JAN The White Lion, Watford, UK
Elephant
There can surely be little denying the fact that the magical vintage pop of
'Skyscraper'
was one of the songs of the year, but there's more to London duo
Elephant
than just that. The way they mix not only vintage doo-wop and pop, but also even older sounding atmospherics that could be from Hollywood's golden era and modern production techniques in such a subtle and beautiful manner marks them out as a truly unique outfit with an incredible deftness of touch.
Download 'Shapeshifter' for free by heading
here
Elephant's
website
Buy their music
Georgian Waters
Having formed in 2010, Sweden's
Georgian Waters
have already flexed their musical muscle a little with the EP
'Lessons'
, but recent months have seen them delivering a string of impeccable guitar-pop songs of the variety that their country does best. Heavenly melodies combine with classic dreamy indie sounds and synth-pop and the results are never short of wonderful, as evidenced by their appearance in our
tracks of 2013 list
. It's unlikely to be the last time they feature in such charts.
Georgian Waters'
website
Buy their music
Girl One And The Grease Guns
Glancing around the internet it seems we weren't the only ones to become infatuated by the indiepop bliss that was
'Jessica 6'
by
Girl One And The Grease Guns
, a group that released a trio of singles this year. There was the noise-pop scree of '(Here Come The) Catastrophe Machines' and before that the lovably melodic DIY of 'Driving Without Headlights (Once Again)'. We're pretty sure the band is either an alias of another band or members of assorted bands, but they're new under this guise so they deserve inclusion.
Girl One And The Grease Guns'
website
Buy their music
Lumin Bells
Who could possibly have predicted that one of our prize finds of recent months would be a bunch of blokes messing around with acoustic instruments and harmonies? After all we've said about those who've cynically followed in the footsteps of any Foxes or Mumfords, it was a surprise and a treat to discover Merseyside's
Lumin Bells
, a band who are proving that if you have songs as good as they do then this combination can still produce some breathtaking sounds.
Lumin Bells'
website
Buy their music
Misty Miller
Since she first appeared on our radar in February with her
'Girlfriend'
EP, we've barely shut up about the exciting new garage-rock talent that is
Misty Miller
, even bagging
an interview
. Despite plenty of other press, all of which has been positive, she somehow slipped through the net when it came to the BBC Sound Of 2014 list. A glaring omission, and as she departs her teens, expect her to be the surprise breakthrough act of the year with a substantial career awaiting.
Download 'Little Drummer' for free by heading
here
Misty Miller's
website
Buy her music
Catch her live:
FRI 03 JAN The Windmill, Brixton, London, UK
Venera 4
They may have walked away with the
Obligatory Record Of The Year
for the stupendous 'Deaf Heartbeats', but French quartet
Venera 4
are still at the beginning stages of what could be a very exciting career with more stunning music. The
'Deaf Hearts'
EP was pretty awesome, and a glance back at a couple of earlier singles prove it wasn't a one-off. With their own blend of shoegaze, electro-pop and pure magic these guys could become firm favourites.
Venera 4's
website
Buy their music
For more news, reviews and downloads follow The Sound Of Confusion on
Facebook
or
Twitter
contact@thesoundofconfusion.com